TERRY QUESNEL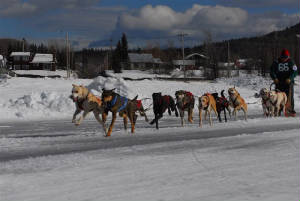 FORT ST. JAMES .B.C RACE TEN DOGS !
COME FIND OUT WHAT SLED DOGS AND SLED DOG RACING IS ALL ABOUT ! SPEND THE DAY WITH GUEST SPEAKER TERRY QUESNEL LEARNING ABOUT WHAT IT TAKES TO PUT A GREAT TEAM TOGETHER. WEATHER TO RACE OR JUST FOR FUN!
TERRY AND HIS WIFE LORI OWN NORTH POINT KENNELS.THEY PRESENTLY HAVE APPROX 20 DOG WITH SOME OF THE BEST BREEDING IN THE SLED DOG WORLD.TERRY HAS BEEN RACING SLED DOGS WORLD WIDE FOR OVER THIRTY YEARS ! HE WAS ALSO A VETERNARIAN FOR OVER THIRTY WICH ADDS A VERY UNIQUE ASPECT TO HIS RACING CARRER.TERRY HAS HELPED TO ORGANISE SEVERAL EVENTS AND RACES OVER THE YEARS AND ACTIVLEY MENTORS MANY STUDENTS PAST AND PRESENT.HIS EXPERIANCE CAN HELP ALL OF US LEARN BY ANSWERING QUESTIONS ON HEALTH, NUTRITION, BREEDING,TRAINING HARNESSING AND ACQUIRING AND MAINTAING EQUIPMENT.